It's been quite the year for us at Mail Manager. We began the year on the back of a fantastic period of growth, not just in our core industries (Architecture, Engineering, Construction, and Property), but also in new geographies and a wide range of industries, from Legal Services to Accounting. At the start of the year, we were still owned by Arup. But in February, we hit our strategic goals and got acquired by Ideagen, a genuine market leader in the software world. So, Arup's Mail Manager became Ideagen Mail Manager.
Needless to say, it's been a landmark year for many reasons. Our growth continues to flourish, we've added some big names to our rapidly expanding customer base, we've got new product features and integrations to shout about (including the new and improved search functionality and our latest integration with Ideagen Huddle), and we've achieved 7 G2 badges showing our customers really do love the software.
Here's our recap of the year, looking at some of our most significant milestones and updates.
Ideagen acquired Mail Manager
First and foremost, we'll start with the acquisition. It's been quite the journey from Arup, to 28Hands, to Mail Manager, and now being part of Ideagen. Not much has changed for our customers - we're still the same solution with the same team and offering, with slightly different branding. But, at Ideagen, we're able to continue to grow and invest in the product. We'll always be grateful to the support from Arup and to all of our customers and team members who helped us get to the position we are in today.
Some big names have joined our customer base, across multiple industries
It has been another great year for us in terms of customer growth, both for new logos joining the Mail Manager family, and for building stronger and better relationships with our existing customers. Customer experience continues to be enhanced through the support of Account Management, which has led to our biggest customers seeing a broader scope for Mail Manager.
We've also seen good growth across various industries, including Accounting, Environmental & Renewable Services, Government Administrations, and Mining & Metals. While our biggest business wins in 2022 have been spread evenly across the US, UK, Canada, and Australia.
Notable wins for us include a global deal with our existing customer Sweco, a larger expansion with WSP in North America, two large US Engineering deals with Jensen Hughes and Benesch, IHG in the Hospitality space, RSM in Accounting, and Amazon in the US.
New product features to make managing emails a breeze
This year we've accelerated the development of Mail Manager to meet our customer's needs, adding more functionality and updating the existing capabilities for a smoother and easier interface. Earlier in the year, we launched a new and improved search functionality, giving more power to our customers to find important emails faster, with a more modern interface. We also launched our Filing Assistant, which automatically files your emails for you, removing the stresses of email admin and making email management a breeze.
More recently, we're pleased to have launched our integration with Ideagen Huddle, a leading document collaboration and client portal platform, to bring documents and emails together in one place.
Our customers spread the word
Firstly, as a SaaS product, it's vital that our customers like using Mail Manager. So naturally, we're delighted that 95% of our customers renew. We're also delighted with the 150+ reviews we've had, 50+ customer referrals that have come in, and 37 G2 reviews this year, ranking as a high performer on G2's Winter 2023 report.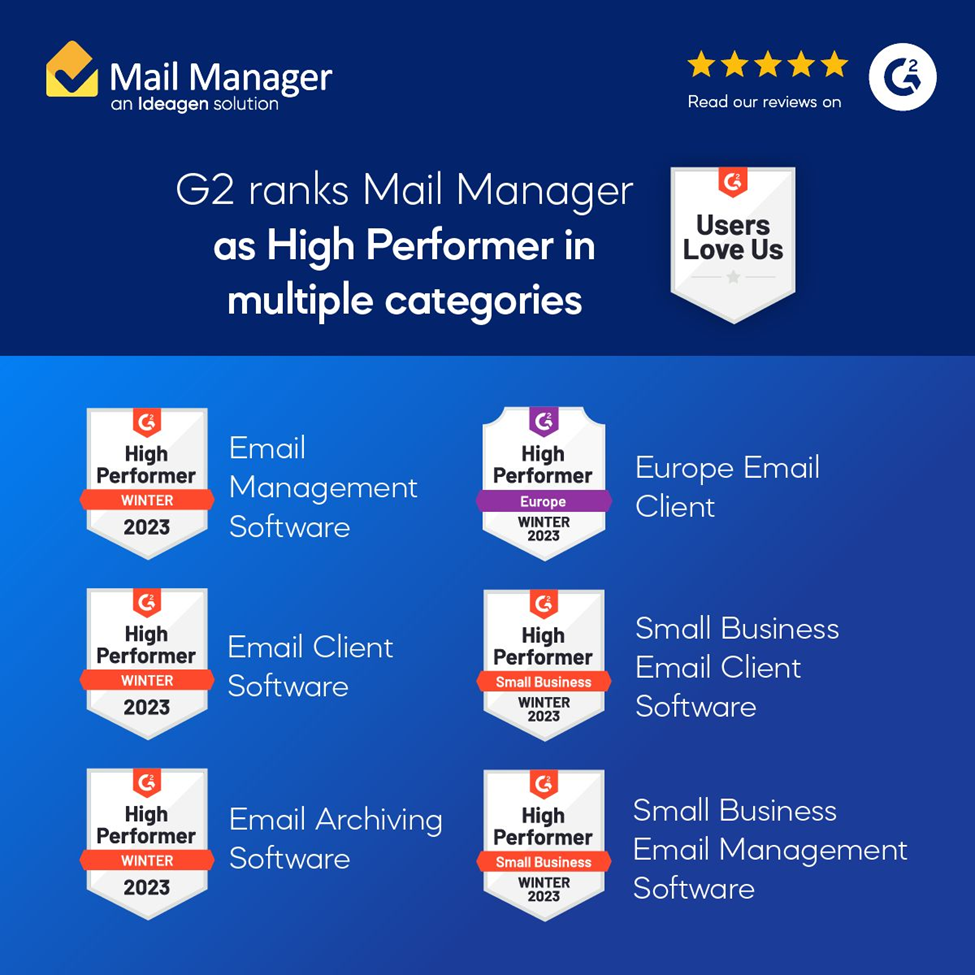 Thank you to everyone who has shared their feedback and thoughts - it's really important to us. If you'd like to refer a friend, please follow the link in the image below.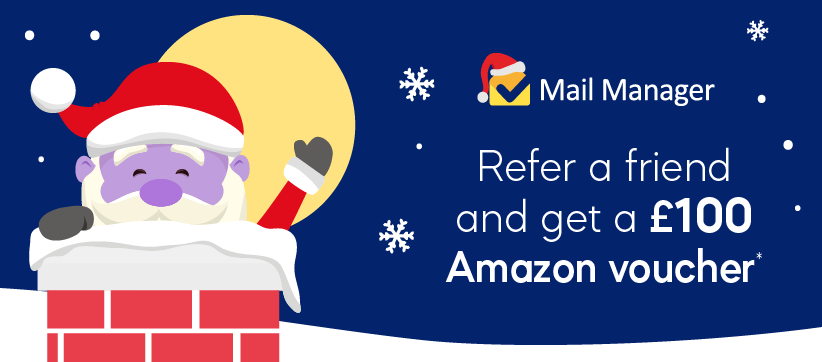 If you're a Mail Manager user, we'd love for you and your colleagues to share your experience with Mail Manager with others by reviewing us on G2.
Lastly, to all of our customers who have shared their journey with Mail Manager, either by case study, customer success story, or by presenting on one of our Implementing Mail Manager webinars, we just want to say a massive thank you.
New research, events and partnerships
Now in its third year, the State of AEC Project Management report has become a key activity for us. 500+ respondents across the AEC industries, in management and above positions, told us about the difficulties in retrieving information on projects, as well as their thoughts on digital investment, project information management, and project risks. In 2022, the respondents, mainly from the UK, US, and APAC, reaffirmed the use of email as the most used communication tool for projects, but revealed they struggle to easily access the project information they need and lose information with staff turnover.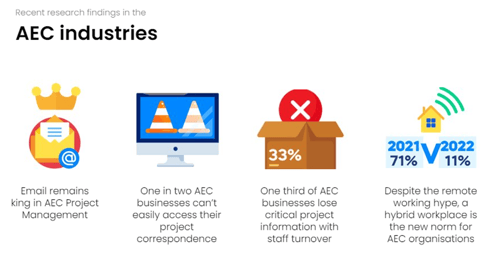 You can read the full report here, and keep your eyes peeled for the 2023 report early in the year.
We also sponsored the Digital Construction Summit for the first time, called 'BIM's future now: The information management evolution'. You can watch it here.
We also partnered with AIIM for the first time, proudly sponsoring their latest research report, 'Jobs to be Done and Tools for the Jobs: Operationalize IMM for Organizational Success'. AIIM members say that process improvement is a top focus for businesses, information integrity is essential for knowledge workers to get their job done, and automating the categorisation and extraction of business-critical information is a top tactical objective for firms. Making sense of your project and client data makes the difference.
Putting on value-led webinars with industry thought leaders is a really big part of growing our audience, and in 2022 it was no different. We hosted over 40 webinars in 2022, such as 'Unifying your information: The need for a Single Source of Truth' with document control specialist and founder of LGC Acadamy, Lauren Graden - you can watch a clip here.
Goodbye 2022
2022 will always be a milestone year for Mail Manager. But, as part of the Ideagen family now, here's to an even bigger 2023. We can't wait to show you our new features and capabilities, as well as our hard work to continually improve customer support and our service.
"What a year 2022 has been for all of us at Mail Manager. Record customer numbers, so much work on the product's future releases, Arup successfully passing the baton over to the Ideagen family and the prospect of a very strong future for everyone within Mail Manager. It just leaves me to thank everyone who is connected in an way to Mail Manager and all our customers for making this all happen. I wish you a peaceful Christmas and a Happy New Year."

- Stuart Rowe, CEO, Mail Manager (now VP Collaboration Strategy, Ideagen)
Finally, a massive appreciation to all of our staff at Mail Manager. Whether you're in a commercial role, development, support, account management, or something else, we couldn't have achieved what we have without you.
Merry Christmas and a Happy New Year!