2020 has undoubtedly been a year that will never be forgotten, for all the wrong reasons. In March, when the company, like others, quickly adopted remote working principals for the entire workforce, the general thinking was, 'We'll be back in a month or two'. 9 months later, how wrong we could have been.
Here at Mail Manager, we've had to adapt to change, just like everyone else. However, with every difficult challenge comes opportunity, and we've had a pretty incredible year. Here's our 2020 recap in which we'll take a look at the milestones we hit, the exciting things that happened, and more.
Introducing Mail Manager
Mail Manager has always been the product name but at the beginning of the year you may have known us as 28Hands (you may still know us as that!). In February, we completely rebranded to from 28Hands to Mail Manager, with a new look and feel website, product icons, content and more. We felt this rebrand needed to happen to reflect our growth in other markets and the nature of our AI-powered product. We hope you love it as much as we do!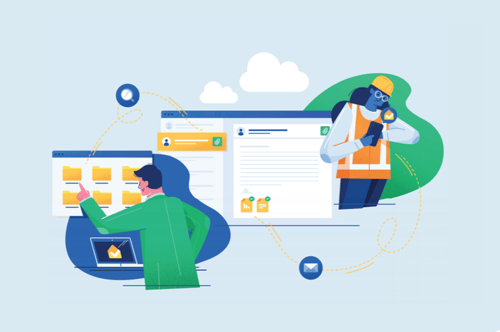 P.S. We are still proud to be part of the Arup Group.
Pivoted to help remote workers get information visibility
It quickly became apparent that as everyone began working remotely around the world, there was significant demand for improved information visibility in order to maintain business as usual and collaboration. With employees all over the place, even in different countries, being able to access the required information on a project, job or client, became business-critical overnight.
We not only offered free licences to our customers to install our solution on home working devices and flexible payment options, but our marketing folks put their heads together to position Mail Manager as a key solution to solving remote working pain. And it resonated. You'll see more on our growth further on, but we've had some brilliant customer feedback on how we helped them transition to a remote environment, connect disparate systems and teams, and ensure compliance and complete records management.
We've added some great companies to our customer roster
Despite the madness of 2020, it was a great year for us in terms of customer growth. Even during lockdown, we continued to grow. McLaughlin and Harvey, EBC Inc, Red Engineering, Modjeski and Masters, Woods Bagot, Graham Construction, Ward & Burke, WME, Amey and FER-PAL Construction have all come on board and are now using Mail Manager to get control over the mass amounts of email correspondence sent and received.
Seamless integrations added
We already integrated with the likes of Viewpoint and SharePoint, but this year we've added a lot more functionality so you can integrate Mail Manager with the systems you want to. We've added full integrations with Procore, Total Synergy and Microsoft Teams.
You can find out more about our integrations here, as well as read/watch the resources below for more on how and why we integrated with our partners.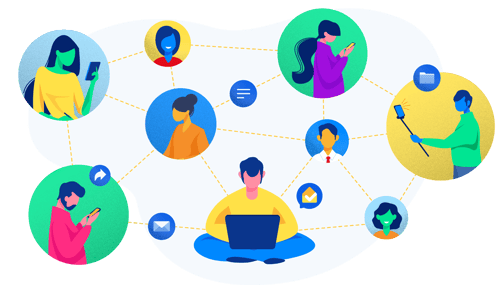 Our customers spread the love
There is nothing better than a customer who genuinely loves your product. We've always prided ourselves on offering a solution that solves a genuine headache, so when our customers share the positive impact Mail Manager has on their daily lives we love to see it.
We've had over 200 reviews on our reviews platform (check them out), and we can't thank every customer enough for spending time to leave us a review and share their experience with the world.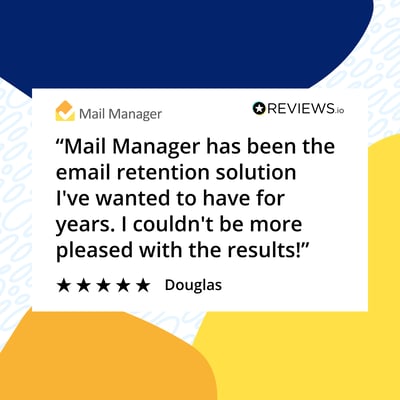 The first State of AEC Project Management report
Our first global research report revealed the lack of capabilities in retrieving information relating to a project across the AEC industries. The research asked senior job roles in AEC firms across the US, UK, APAC and South Africa about their views on technology trends, how they manage project information, what information they need to retrieve, where it resides, and what they need to find in a legal dispute.
The key findings reveal email is the most used communication tool for projects. 55% of respondents reveal over 80% of their project correspondence is via email, while a further 24% of respondents answered 71-80% of their project correspondence is via email. However, 88% of respondents are concerned about project information not being readily available, and not being visible. Only 1 in 10 are confident with finding project information, but 99% have had to retrieve emails from a past project before.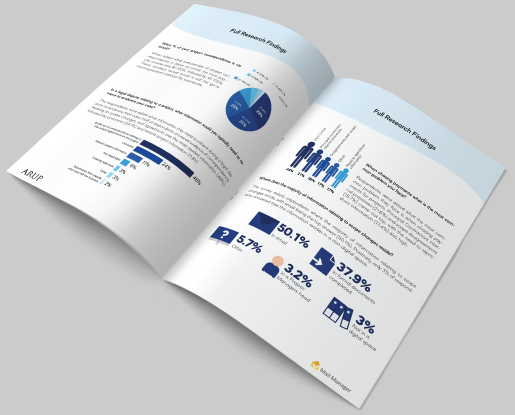 If you want to read the full report, access it here. We'll be launching the 2021 research report at the end of January so stay tuned!
Record growth, broadening sectors, and team expansion
2020 has been a year of back to back record quarters at Mail Manager. Something we are particularly proud of. Not only have we seen our revenues grow by over 100%, we've expanded into the APAC region, and have added more than 250 customers throughout the year. We've also broadened into new sectors and now have a wide range of clients in Financial Services, Higher Education, Accountancy and Property. More than 70,000 users in geographies including Canada, South Africa, the United States, the UK, Australia and New Zealand now use Mail Manager.
The Mail Manager team has also experienced growth. We've increased our headcount by 20%, and since lockdown we have been delighted to reward our employees with 14 internal promotions. Team culture is something we put a lot of emphasis on and during lockdown we realised we needed to continue to try and foster a positive team spirit even though we weren't all in the same place. From charity events (helping out the local soup kitchen before lockdown) to virtual 10k runs for Action for Children, Deliveroo vouchers to walking challenges for the RSPCA, quiz nights to fancy dress meetings, we've managed to integrate new members of the team into the wider company and maintain our proactive and positive approach.
Provided value across the Built Environment
We have really focused on providing value to our customers and prospects this year. So it's great to see over 4000 content downloads and 2000 webinar attendees in 2020. During lockdown, we launched a 'Road to Recovery' panel series, with speakers from the Government and industry bodies discussing how the AEC industry can recover stronger, faster and better following the pandemic. Our expert panel series covered the APAC, UK and US regions, and we added another specific panel on the importance of digital solutions in accelerating positive change. You can read our Road to Recovery Leadership Playbook here to find out about the key takeaways from our panellists.
Additionally, we've seen amazing growth in our leading industry podcast, the Changing Construction Podcast. Across 37 episodes, we've had over 4000 unique listens and been delighted to welcome the likes of Dame Judith Hackitt, Fred Mills from the B1M, and Ann Bentley on the show.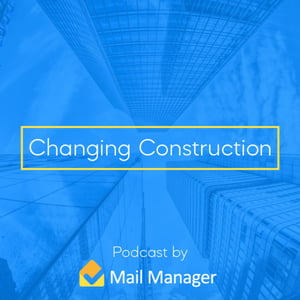 You can see all episodes of the podcast here.
Wrapping up 2020
The above just the tip of our journey in 2020. We've also added a new brand video, started an implementing Mail Manager webinar series in which a real-life customer shares their Mail Manager story, added a number of case studies and customer success stories on our blog, and launched two product updates.
Here's to a more exciting and innovating 2021!
As a final shout out, a massive thank you to all our customers and staff and we can't wait to keep pushing the limits next year.
Merry Christmas and a Happy New Year!