Claire Donnelly, Shift Engineer at Tideway London, joins us in episode 48 of the 'Changing Construction' podcast, the podcast designed to help people in Construction address the big challenges they face and discuss the key themes across the industry, breaking down stigmas, bringing awareness to issues and challenges, and hear from those at the forefront of change. In this episode, we discuss life on-site during the pandemic, the impact the pandemic had on site productivity, and the future of site work.
Episode 48: Claire Donnelly - Life on-site during the pandemic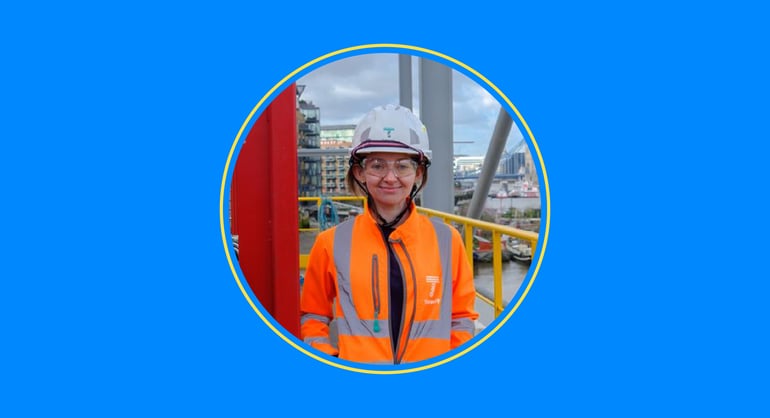 Claire Donnelly, Shift Engineer at Tideway London, joins us to discuss life on-site during the pandemic. We chat about her experiences during the first 6 months of the pandemic, the impact on productivity and processes, the role technology plays in modernising site work and increasing collaboration, an overreliance on paper trails, and what the future of site work looks like.
Listen here
About Claire:
Claire is an Engineer for Thames Tideway East Main Tunnel working on the construction of the 5km main tunnel out to Abbey Mills and currently involved in the removal of Tideway Central TBM 'Ursula'. Previously she has been a Site Engineer on Crossrail C695 Plumstead Maintenance Facility and an Assistant Design Manager on London Bridge Station Redevelopment.

Prior to her engineering career she was a Senior BA with First Derivatives working in-house and contracted to RBS in London and Edinburgh.
About Tideway London:
Tideway is the company delivering the Thames Tideway Tunnel. It is owned by a consortium of investors, and more than two million pensioners have an indirect investment in Tideway through UK pension funds managed by those investors.

More than 400 highly experienced professionals are employed by Tideway to deliver the project, working alongside the company's four main delivery partners.

Preparatory work on the project began in 2015 and construction is now underway at each of our 24 sites in London. The project is anticipated to be completed in 2025.

The tunnel will cost £3.8bn to complete, and an additional £1.1bn has already been spent by Thames Water for preparatory works. The cost of the project is being paid for by Thames Water's 15 million wastewater customers through their bills, which will rise by no more than £25 per year.

Where can you listen to the podcast?
The podcast can be found on Spotify, Google Podcasts, Pocket Casts, Anchor, Apple Podcasts, and more.
If you like it, please share it, follow the podcast and feel free to leave a review.