We are delighted to have John DiCamillo join us from the Arup Americas Region us for our latest Q&A. John is CIO of the Arup Americas Region and has been at Arup for more than 8 years. He is part of the digital technology leadership team and oversees digital strategy across more than 60 Arup regional IT staff members and manages a $20m+ budget.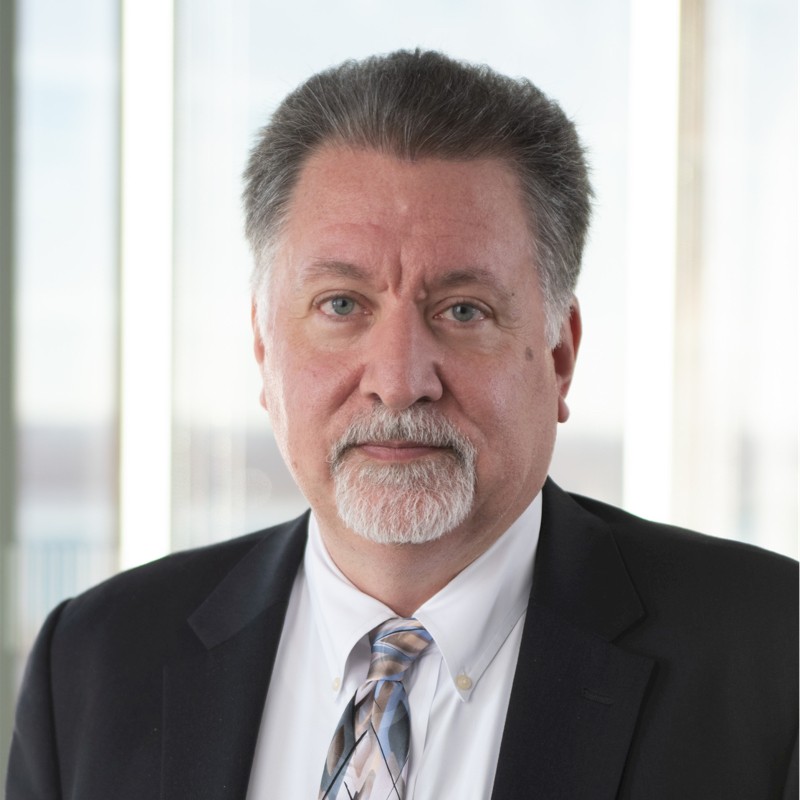 Read the Q&A below to hear his latest thoughts on Arup's tech agenda, the benefits of email management, the impact of the pandemic on technology, and more:
What's your experience with Mail Manager?
I have worked with Mail Manager since I came here and now I'm part of this one project that we're doing globally, which aligns with using Mail Manager, known as the Project Data Environment (PDE) - a globalised version of a couple of tools around project data location.
From a regional standpoint, we have used Mail Manager for years and require project teams to file any correspondence relating to a project using Mail Manager. We've been utilising all the features and functionality, alongside ProjectWise, for holistic filing.
What are your thoughts on the role email plays in today's ever-changing project communication methods?
Everybody says we should use Teams, and everybody thinks we should use Yammer, and everything else. That's all well and good, there's a lot of great intentions, but, ultimately, everyone always defaults back to email.
There are so many different ways to communicate. But one of the things that I've seen is people don't have time to go and look through all these different environments. If you need me, I hate to say it as it's old school, but call me or email me. A lot of the time people don't have time to go into different places to find information.
How much of an important record is email?
Within the Americas region, if there is arbitration, a claim, or an audit, the first thing we focus on is project correspondence and project folders stored in Mail Manager. Because it's a true record. As a secondary practice, we may go back and pull somebody's inbox from previous years if needed. So it's vital.
What emails need to be filed?
To be on the safe side, it's basically any correspondence with a client or a third party relating to a project or decision. The default is everything.
With the popularity of Teams and new tools increasing, what do you think about the role of email now?
There is validity with using Teams as a replacement of some correspondences that traditionally have come through emails. The problem we face is there are many Teams sessions. I've probably got anywhere from 30-40 Teams that I'm a member of. I constantly have to tweak the notifications, so I'm not looking in the Teams for updates. The concept of the activity button to keep track of notifications is great, but not foolproof. The biggest problem is, if you aren't a member of a Team how do you know it exists?
We attempted within the Americas to use Teams as the means to communicate but, once again, people have always defaulted back to email. Everybody says we should pick one or the other, but email is not going away, so it seems to be the easiest. And for client communication, email remains the most important communication method.
What's your take on document management systems for internal purposes?
Within Arup, SharePoint is the predominant location for documents. There's a purpose for those larger, more robust systems if you're a little bit more formal in policies and procedures you're trying to adhere to. Arup's a bit different - we don't put policies in place just to put policies in place. There needs to be a reason, so I'm not sure those larger systems would be very successful within Arup. SharePoint fits better into the ecosystem that we've built.
What do people say about Mail Manager?
There's a lot of people that rely upon it to bring a little bit of sanity to their projects when dealing with or trying to manage compliance, and putting some structure around the information on projects. There's tons of different use cases, but the common thing is if it's not working properly we need to fix it as it's so important.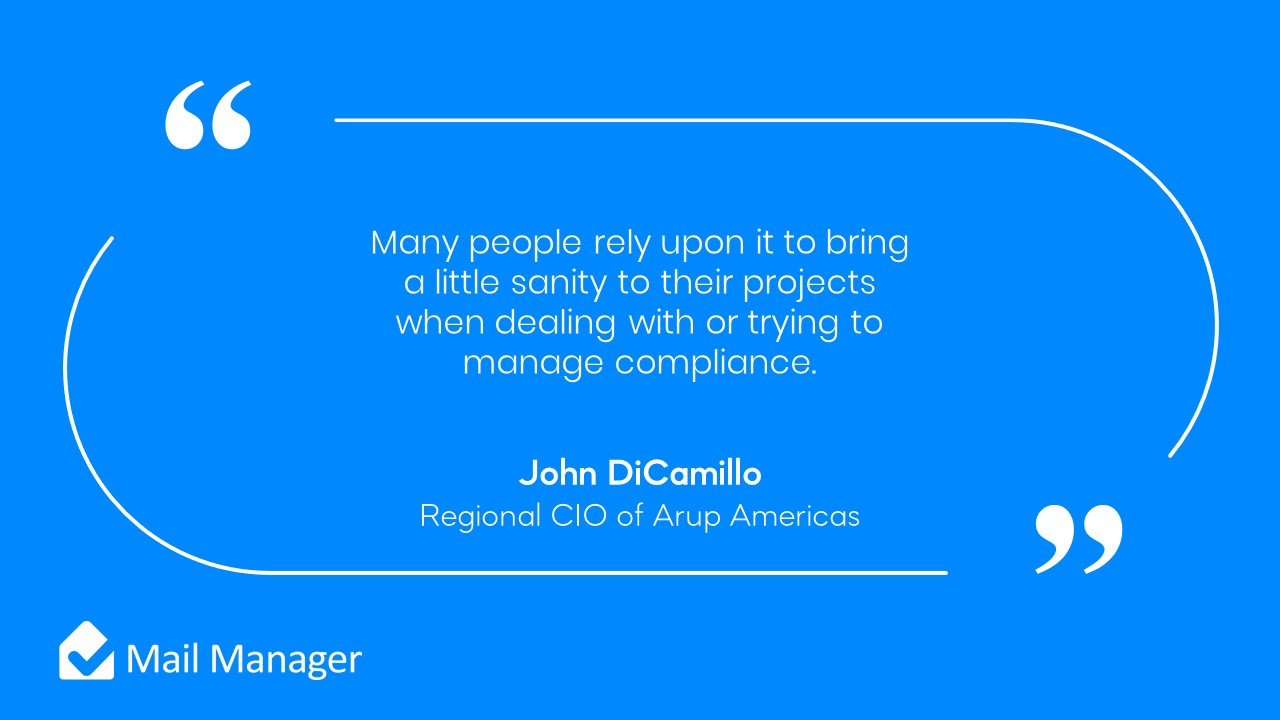 What would you say to another CIO in a similar size company considering implementing Mail Manager?
In the Americas region, we have slightly over 1600 users. The change management piece should not be a blocker; it is very intuitive and user-friendly. For me, it's just about showing the value. A lot of times, when deploying tools, we don't spend enough time showing the use case and value behind it. One of the biggest sellers of Mail Manager is being able to go back and search historic emails. Outlook search is awful in comparison. The simple fact is, if it's in Mail Manager, it's easy to find.
Implementation shouldn't take long, as long as there is a system to package it and deploy it. A couple of days really.
From a collaboration point of view, do you feel like the importance of email has increased since the pandemic?
Yes. The volume of emails definitely increased. It's easy to use something like Teams to do instant messaging or have a video conference with someone within your time zone, but if you're a global organisation, you only have a specific time window, and if that window closes, then it's email. We have global teams with some supervisors in different regions, say Australasia, and some engineers in, say, New York, so they use email to correspond.
What's on your agenda strategy-wise at the moment?
Project data environments

Cloud adoption
More generally, what other technologies have became more important to you in the post-pandemic world?
From a collaboration standpoint, it was probably Teams, just like everybody else, to keep the workplace environment going.
One of the things the engineering staff particularly struggled with is how to collaborate. Microsoft pushed forward their Whiteboard solution but it isn't great. Miro became a tool to enable people to collaborate, replacing what was traditionally in the past done in front of a whiteboard with a group of people in the room.
We accelerated Teams adoption at a global level, after having a debate of Teams versus Zoom. Other than that, within the Americas, we'd already put a lot of provisions in place to become more mobile. So going remote was a lot easier than other firms who had desktop environments.
Finally, what are your biggest challenges or things that are on your radar that will be coming up in the next year?
We've got a huge cloud-first push, so we're accelerating a lot of stuff into the cloud. We've been successful in moving applications and systems into the cloud, but one of the areas that we're working on is how do we move our data into the cloud, so that'll be a significant focus area for us.
We are also reviewing how we improve overall project delivery, as well as supporting a hybrid approach to meet the new way of working. We need to consider how to support an office and remote environment. Managing that hybrid environment is going to be key.
Thanks John! You can find our other Q&As with Arup leadership here: