Faith Wainwright is a Director of Arup and a leader of Arup University. Faith manages the backbone of technical excellence in Arup - the Skills Networks, which enable Arup to deliver the best of their expertise across the globe.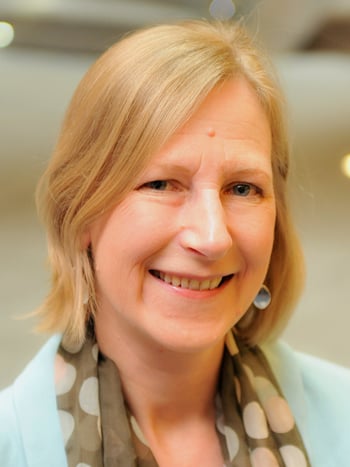 Faith's structural engineering career has included distinguished projects with leading architects. She has held a variety of senior leadership roles at Arup, and was the 2018 President of the Institution of Structural Engineers.
We spoke with her about her role in Arup, the impact Mail Manager plays in solving her teams' daily challenges and the attitudes towards email management.
Hi Faith, thanks for joining us today. Tell us about your role and the work you are doing at Arup University?
I manage a team of 15 within the Arup University Group. We are a global team tasked with looking after our internal skills and knowledge management.
Arup University is responsible for learning, knowledge sharing, research and enabling people to share and develop their expertise. Our work reaches across all offices and all projects in the firm, to enable Arup to be the best it can be.
How long have you been using Mail Manager?
I have been using Mail Manager since its development within Arup and it is an essential tool within our team.
And what has been your experience with using Mail Manager to date?
I am a huge advocate of Mail Manager. The primary benefit for me is the confidence it gives me. Confidence that I can find information when I need to. We work with many different teams within the business, so we are constantly needing to find information from different discussions, and we need to do it quickly. I need to know that anyone in my team can quickly find the same information. Everyone can see all conversation history.
What features do you like most?
Mail Manager's powerful search capability is critical for us. The solution is easy to set up and the prompts make it easy for everyone to use in a similar way.
How do you induct new staff on the role of email management?
Occasionally, new staff aren't aware of the importance of using an email management solution. They sometimes start creating their own collections and filing folders. That's why we include Mail Manager as part of our induction process, so new team members see it as an essential business tool. We want to sell both the collective and the personal benefits from the very start.
Using Mail Manager is vital in Arup. It is part of our working environment.
Describe the importance of managing emails for Arup
Much of our work is via email, and doesn't lend itself to standard filing approaches. Being able to find the context of a decision, by finding the last discussion with someone, for example, helps us to give the best service to the firm that we can. We often need to go back to find the trail. You never know when something in an email will be important to find.
It's also about managing risk. And I don't mean financial risk, I mean contextual risk. As a significant amount of our communication is done via email, email management really serves as the brains of the project. For us, it's basically a knowledge management tool.
In your opinion, what are the top four benefits of Mail Manager?
Confidence in finding something

Teams all have the same information, easily accessible, in a way that suits them

Speed and simplicity

Prompts to file encourages standardisation and use
Mobile filing is also useful!
What impact would it have on your team if Mail Manager was unavailable?
It's critical to how we operate.
We'd waste loads of time setting up individual filing systems and organising emails, and we'd end up re-inventing stuff because we won't know it's previously been done. Re-work would be a serious issue. For example, 'I think I said that to XYZ'. Or, 'haven't we had this conversation before?'. Without Mail Manager, we'd never know!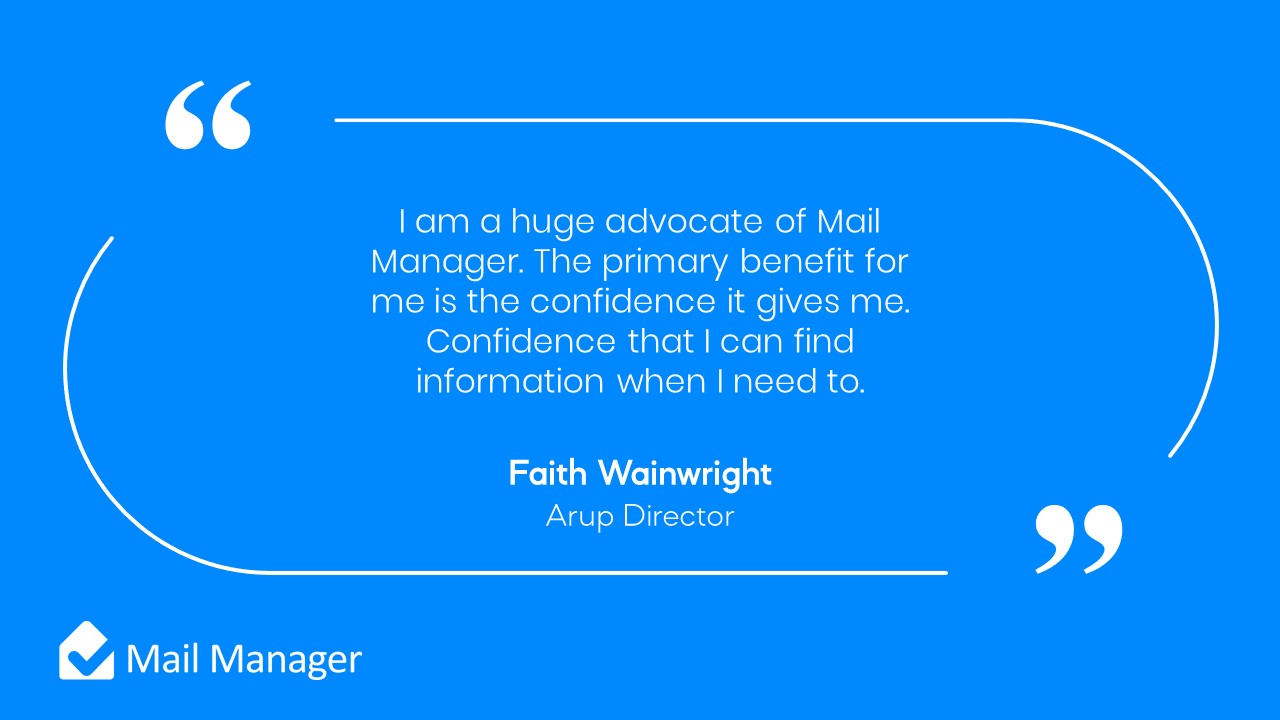 Thanks Faith, really appreciate you sharing your thoughts and great to hear Mail Manager is such a critical part of how you work.
You can see how Arup is using Mail Manager across its business in our guide here, or try Mail Manager yourself by downloading our free trial below.