Vilhelm Lauritzen Architects is an architecture firm based in Copenhagen, Denmark. They employ around 150 dedicated architects, constructing architects, specialists, and administrative staff. Vilhelm Lauritzen Architects creates functional architecture and design that improves the quality of human lives, and their strong culture means they have innovated and created the best solutions for the location, its users and its builder since 1922.
Transitioning from their own software to Mail Manager
Vilhelm Lauritzen Architects (VLA) implemented Mail Manager around 18-months ago for 100 of their 150 employees so far. Prior to using Mail Manager, VLA had developed their own email management software in-house. Their software however caused a few issues for their staff as it did not plugin to Outlook.
Kenneth Hansen, Consulting Architect, Project Director, Design Director, ICT Manager and BIM Manager at VLA described using the legacy software as: "Filing emails was still not done. Things were still kept in personal folders and inboxes, so we still had a problem because we had this little program but people aren't using it."
Kenneth continued: "Like many others, we had limited space in our Outlook folders, so we had to create PST files which were stored, and once we needed to retrieve an old email, we would have to open up the PST file, find the email and if it was there at all, and then close it down again. We could only have one user using a PST file at the same time as well. So that was not the way to go. We had been looking for solutions over a period of time but hadn't come across anybody who had what we were looking for."
In essence, their existing software was still quite manual. Staff were not filing emails into public folders where they had limited space, and there was the added stress of having limited access to their PST files. VLA found it difficult to access their project correspondence when they needed it, and they found it difficult to search for what they needed using the Outlook search function.
Trialling Mail Manager with Joyn Hotel, Copenhagen project
After meeting with Mail Manager and a few competitors, it became clear to V LA that they would be better off buying an email management solution from a supplier rather than using their own solution. After initial conversations, VLA decided to download a free trial of Mail Manager, and tested it with 15 users on their project, Joyn Hotel in Copenhagen. Kenneth described the initial trial as "very exciting. It was so easy. The only issue was that the other projects we had did not use Mail Manager at that point. Everything was very simple. Simple filing, simple search."
After this trial period, Kenneth had a meeting with the CEO of VLA, and from this discussion they purchased more licenses which were used on a number of their projects. He described the process as painless and effortless, despite the fact that people had been working from home for a long period due to the pandemic, which was a challenge in itself. VLA experienced a smooth transition to Mail Manager and had instant access to existing emails. When commenting on the quick installation and set up process, Kenneth commented: "The way I measure the success of Mail Manager is we have it now involved on all of our current projects."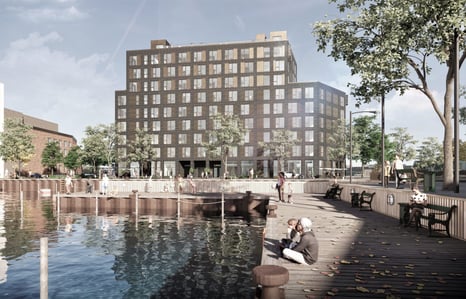 Life since implementing Mail Manager
Since implementing Mail Manager, Kenneth noted that it is much easier for him and his staff to locate new and old emails using our search function. The quick installation and setup meant that the team was able to access all their project correspondence without issue, as Mail Manager files emails into their existing folder structures on their office-based server. As part of their onboarding service, VLA receives online training from Mail Managers team, and all new starters are trained through a pre-recorded training session.
At the moment, VLA has 100 users and 60 projects connected to Mail Manager, and they are currently in conversations regarding bringing their administrative team over to the solution as well. Prior to our webinar, Kenneth asked three of his colleagues what they think about Mail Manager, and these were the responses:
"With Mail Manager, it's a lot easier to put more time and effort into the projects and not in the filing process"
"I think Mail Manager is a really good email filing program. It's easy to find old emails on the projects and it's really hard to NOT file an email, because Mail Manager always asks you and comes with a suggestion on what to do with the email."
"It's simple and quick… a very powerful search function."
To hear more about Vilhelm Lauritzen Architect's experience implementing Mail Manager, you can access our on-demand webinar here. Or to see Mail Manager in action, book a demo with our team today.