Spectrum Engineers is an engineering company based in Utah, United States with over 135 employees. They provide integrated mechanical, electrical, plumbing, acoustical and fire protection engineering, and technology, lighting and theater design as well as building commissioning services. David Wesemann, CEO and President, shared his story on implementing Mail Manager during the Coronavirus pandemic.
Before adopting a solution, Spectrum Engineers tried to implement an internal system which was based on personal preference and within each employee inbox, not giving visibility across the company or ensuring information was properly saved.
It also generated other issues. With a high volume of incoming emails, the email system slowed down and required more investment. Ensuring everyone was filing as they were supposed to was, therefore, very difficult.
Two factors led them to adopt a proper email management system. The first was when their system crashed and they struggled to recover all information, and the second was during a legal issue involving several parties who didn't work for them anymore. Before Mail Manager, Dave said: "Trying to gather all emails on any project is like taking a bag of feathers, throwing into the wind, and then trying to gather them."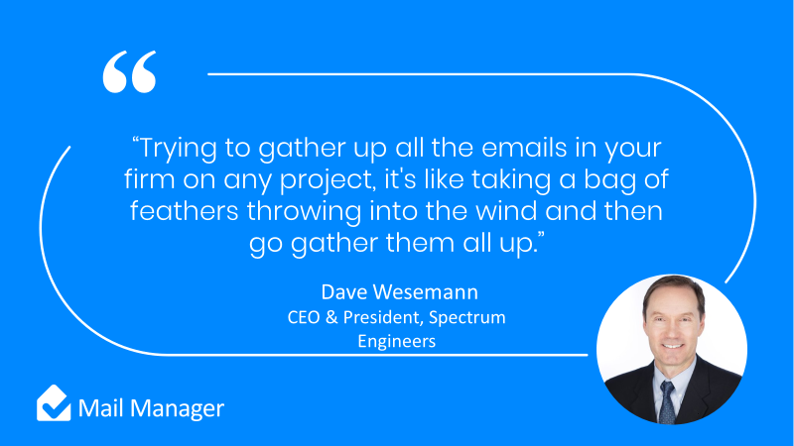 That was when they started to use Newforma, 15 years ago. David explained: "It worked for a while, but we were paying for many features when we only used the email management ones." It was expensive and wasn't being fully used. Earlier this year, Spectrum Engineers met Mail Manager and quickly saw the benefits of a specialist email management solution. It was exactly what they were looking for.
Dave initially questioned how he would search both systems. The Mail Manager team said it was possible to merge both systems, but Dave didn't believe them and reached out to Newforma to get just a few licenses. In the meantime, the Mail Manager team and Spectrum Engineers' IT department quickly carried out the information merge and made all historic correspondence accessible, resulting in there being no need for the additional Newforma licenses.
To start with, Dave tested Mail Manager himself, and after he had any questions answered they proceeded with a 30-day on-boarding and introduction process. Additionally, there was half a day of training to change people's way of thinking, and test different project file names/locations.
750,000 emails were immediately cataloged into Mail Manager, dating back 10 years, and now currently up to 1.1 million emails.
Following the implementation of Mail Manager, project correspondence is now really easy and fast to find. Dave said: "You're in a call with somebody and you have a dispute over who said what, or who agreed to something. I am now able to go into our Mail Manager filing system for that project and search within thousands of emails immediately, meaning I can find that smoking email to put the dispute to rest."
Spectrum Engineers' mailboxes reduced to half the original size since they no longer store emails, they all get filed to the relevant project folders. Not only do they use Mail Manager for projects, but also for administration, such as marketing, accounting, HR and IT. Dave finished by saying the payback was immediate since the software is less expensive than what they previously had, it saves significant time, and it's more secure.
Watch Spectrum Engineers' Mail Manager story on-demand here.