In the pursuit of building safety and transparency, the UK's Architecture, Engineering and Construction (AEC) industry is met with pivotal updates for the Building Safety Act 2022 (BSA).
Introduced to elevate the industry's standards, the BSA promises remarkable enhancements in how AEC firms operate, focusing on accountability, and improved collaboration for higher-risk buildings as well as wider changes to the building regulations for all buildings. The Act orchestrates a symphony of changes aiming to establish a consistent, accessible, secure, and up-to-date flow of information throughout a building's lifecycle, fostering a culture of safety and precision.


Recent updates include:
Impact on High-Risk Residential Buildings (HRRBs)
The BSA 2022 introduces a refined regulatory framework, especially concerning High-Risk Residential Buildings (HRRBs). Striving to prevent heart-wrenching tragedies such as the Grenfell Tower fire, now there's a necessity for HRRB owners to designate a Building Safety Manager, ensuring that buildings are duly registered with the Building Safety Regulator.
This comprehensive framework aims for a fortified layer of safety, ensuring meticulous attention to detail in construction processes.
Revamped accountability structures
Duty-holders and accountability also reside at the core of the BSA 2022. It clearly defines responsibilities and ensures that everyone involved is accountable for their actions throughout the building's lifecycle. The creation of new roles such as the Accountable Person marks the beginning of an era where lines of responsibility are clear and that each phase of construction is handled with due diligence and accuracy.
Introduction of Gateway Points
Gateway Points – another brilliant innovation by the BSA – operates as milestones peppered across the construction process. This inclusion is instrumental in bolstering safety assessments, these strategic milestones are intertwined within the construction phases, requiring specific safety assessments and certifications to proceed further in the construction journey.
Understanding the Building Safety Act 2022
So, how will the BSA 2022 updates impact UK firms? First, it will usher in a new era of impeccably high standards, strict adherence to safety, and accountability. For AEC firms, this means having robust documentation of materials, designs and construction methodologies, ensuring they're readily accessible and accurate throughout a building's lifecycle.
The BSA 2022 is more than just rules. It helps businesses improve their reputation and competitiveness — firms that embrace the principles of the BSA 2022 and the Golden Thread of Information will invariably improve their market positioning and gain recognition for their commitment to safety and quality.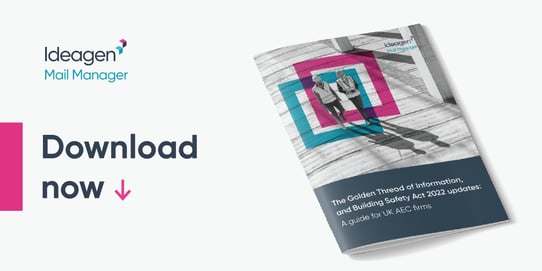 Download your free eBook
Learn how a harmonious blend of technologies like BIM, digital twins and advanced data management systems can make construction safer and more efficient. Download your free copy for a deeper dive into the crucial updates and get insights that can help your business navigate through the new changes successfully and stand out in the industry.