The technology landscape globally is changing at an ever-increasing speed. This is no different within the construction industry and in fact, construction technology continues to rapidly evolve and drive forward the construction technology industry to become safer, cheaper and quicker.
Technological advancements are paving the way for digital transformation in the construction industry. Today, there are numerous examples of how new technology is revolutionising the construction sector, including the Internet of Things, Digital Twins and BIM. The question for organisations is no longer if they are going to digitalise their construction projects and construction workers, but when and how are they going to keep up and adapt to ever-evolving and improving technologies.
The main drivers of technology in Construction
There have been three key drivers of technology, particularly in the UK. The first is Dame Judith Hackitt's Safer Buildings report. This landmark report came about following the tragic Grenfell incident, which has driven the industry to look into how they are managing, storing and accessing information at all stages of a building's lifecycle.
The second driver is the new UK BIM Framework regulations, and other countries have their equivalents, such as the National BIM Standard-United States.
Finally, Mark Farmer's landmark report 'Modernise or Die' was written about the construction industry and made a huge splash in how we think about construction today. Farmer's report highlighted how the UK construction industry is embracing new technologies and processes, and his findings are relevant across the globe.
While there have been other drivers of change other than the general need to digitise, all three of these have highlighted the real need to have better technology processes in place.
Five years following his Modernise or Die report, Mark Farmer wrote a follow-up piece discussing the industry's progress in digitising. He said:
"I said in 2016 that the industry had five to ten years to get serious about change before it faced irreversible decline. We are at the halfway point now and all eyes are focused on where we might be by 2026, and how the seeds of modernisation increasingly being sowed now need to take root quickly."
This point really drives home the point that construction firms all over the world need to be acting now to succeed and to future-proof the industry.
Maintaining the Golden Thread of Information
Maintaining the Golden Thread of Information has never been more important for firms throughout the AEC industry, but especially in construction. This information needs to be accurate, easy to understand, accessible by those who need it, and up-to-date.
Steffan Speer, Technical Director at Morgan Sindall Construction & Infrastructure, joined Mail Manager on a webinar recently and commented, "The Golden Thread should include the necessary information needed to demonstrate compliance with the building regulations and relevant standards. It must be digital."
He continued, "Managing information is an integral part of any construction project. Construction projects today are extremely complex and are becoming more and more complex with a huge array of stakeholders with different levels of knowledge and understanding as to how and why technology is deployed on our construction projects."
"Access to information can be from a huge amount of sources which could be argued is a result of technology and in particular the internet. Whilst this is of huge benefit. For the construction professional it can also be a huge problem. What we require is the right information at the right time to prevent any overburden and error from occurring."
Steffan discussed how technology helps manage the Golden Thread of Information and the importance of the Golden Thread in design, inspection and quality management. He highlighted the importance of using data management to increase transparency, improve project performance, and use digital frameworks, knowledge and information sharing to upskill. In addition, Steffan revealed how Morgan Sindall maintains a Golden Thread within their organisation. You can listen here.
ISO19650 and its implications for BIM
BIM professionals in particular have no doubt come across the ISO19650 standard. This standard sets out the activities required to manage information on a construction project. It helps standardise the approach to classifying data, data security and how data or information is passed from one party to another.
Steffan mentioned, "Technology and the use of digital modelling are required to comply with the ISO... In my opinion, an organisation needs to assess what information is required at what time and by who, and ensure the technology that you employ is interoperable to future-proof the organisation so that everyone can benefit both now and in the future. Only with this interoperability of technology can information transfer readily between different technologies whilst crucially keeping the integrity of the original information."
Giulia Pustorino, BIM Manager at Weston Williamson + Partners, commented on adopting ISO19650 in BIM to improve communications. She said, "Applying the ISO19650 allows us to source who is accountable for what, from the architect to the client, and obviously into the asset management of a building."
"Digital technologies are transforming the way we work, and it is nice to see how in the last few years there has been a focus on improving communication and data sharing."
"In the design phase, uncontrolled emailing and file sharing between project members can quickly become chaotic and impossible to track. Projects can run for years from construction to the built environment, people involved in the definition of the project can change, and information is a crucial part of our work."
"I believe that the possibility to have a Common Data Environment in place, as described in the ISO19650, will really change the way we approach our projects giving us the possibility to focus more on improving our design with the certainty of the information that we are using and sharing."
In the webinar, Giulia discussed topics including adopting ISO19650 in BIM, how to improve efficiency with clash detection, the human dimension to BIM, and addressing the anxiety related to ownership of responsibility.
Embracing technology and data to boost efficiency
More and more firms are embracing technology to improve their processes, but some are still not harnessing their business data to the best of their ability. And, it's a surefire way to boost your efficiency. Making projects faster, safer and greener is becoming really significant in the industry. Firms need to ensure they are being efficient in all areas, including materials and programs, reducing carbon footprints and really working towards achieving net-zero.
Lydia Walpole, Digital Strategy & Performance Director at Costain, joined our panel webinar and discussed the role potential of technology and data in the industry. She mentioned, "The main takeaways is really about embracing technology. In the construction industry, we've got people from vastly different backgrounds, and it is important that we're encouraging people to adopt and embrace technology. It may not be what people are particularly familiar with, especially on-site, but it's making sure that we are really giving them the tools and processes they need to embrace technology and look at data sources."
In her discussion, Lydia covered points including Digital Twins increasing safety and efficiency, using data to make informed decisions and on-site improvements, the Infrastructure Roadmap to 2030, how Costain embraced data on their A14 project and democratising data to harness data analytics. Plus, she uncovered her thoughts on bringing the industry into the future, and how we can look to other industries for new skills.
If you'd like to learn more about the role of technology in the construction industry, listen to our full panel webinar here.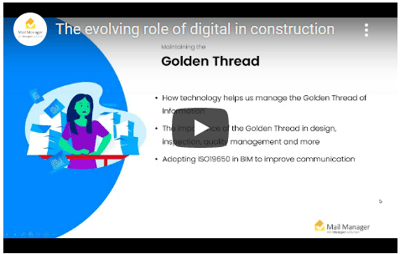 If you'd like to see how you can automate processes and create a Single Source of Truth in your organisation, contact us today.