Suppose you head out trick or treating or go to a party this Halloween. In that case, you'll likely encounter people dressed up as classic killers like Freddy Krueger, The Joker and Jason Voorhees or mythical killers like vampires and zombies. You're less likely to see someone dressed up as an email, despite the communication method being one of the most notorious business killers.
In fact, many people would have you believe that email itself is a ghoulish thing of the past. For example, a Fast Company guest article in 2007 proclaimed that "email is dead." While in 2019, Slack CEO Stewart Butterfield declared that business email would die out "in the next two to seven years."
Yet two years on from Butterfield's claim, it may be time to call the Ghostbusters as email is not only still here but continuing to dominate all other forms of business communication (including Slack). Indeed, Statista data shows that 306.4 billion emails were sent daily during 2020, which is predicted to rise to 376.4 billion per day by 2025.
Email: The silent killer
Despite this colossal email usage, poor usage of the communication medium is killing business productivity. For example, our research of business leaders in the architecture, engineering and construction industry found that 73% of people waste too much time trying to find emails. As a result, 84% of respondents claimed email could have significant consequences for their company.
Email is also taking its toll on employees, who are burdened by sending emails and managing their inboxes when they should be completing project tasks, developing drawings, and preparing documents that deliver value to their clients. Furthermore, the ping of a new email notification kills employee productivity as effectively as the stabbing sounds in Psycho or Jack Nicholson uttering "here's Johnny" illicit fear in movie viewers.
However, email isn't just a vampire sucking the blood out of employee effectiveness; it's also slashing business profits. At Mail Manager, we've calculated the consequences of ineffective email practices could be hugely costly. Our email management solution saves the average employee three hours per week, which equates to monthly savings of more than £180,000 for a 1,000 employee business. However, our research also found that employees waste at least one hour per day - or seven hours per week - managing their inboxes, which implies businesses are paying an even higher price.
A short horror story...
Nancy's SME construction business was reliant on their email archiving solution. She'd just finished a long-term project and, as usual, had to bundle all the project emails into one file. Unfortunately, her IT company noticed the archive was unreliable and had corrupted, so they'd lost all their information - including scope changes, contracts and approvals. As the MD, losing the data meant sleepless nights in case something went wrong with the project after it was completed or the client asked for some information to be reproduced.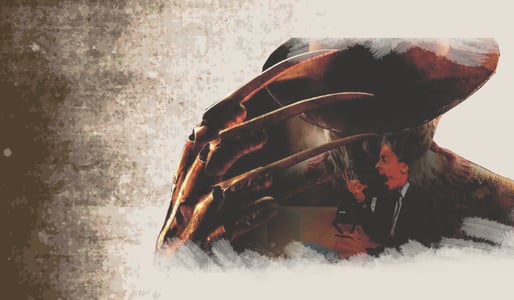 Remove the horrors of email management
Unlike gory Halloween movies, there's no need to hide away from your email horrors behind a cushion. These simple best practices can help you breathe life into your email management, and put an end to your email nightmares:
Take control of your email: The constant pinging of new email alerts will only result in you wasting vital time like characters in a Scream movie. Removing the burdens of email and ticking off your tasks relies on turning off alerts and checking your inbox at specific intervals.
Take action on your inbox: Just like Death has a plan in place for the characters in the Final Destination movies, leaving your emails to deal with at a later date will only come back to bite you. Instead of skimming through emails and leaving them for later, take an action-based approach of "deal, delete, delegate or defer" to work towards a cleaner inbox.
Automatic filing: Many of the problems people have with email are self-inflicted. For example, deleting an email they later realise they needed or filing emails in the wrong location. But this can be avoided with Mail Manager's software, which automatically files both received and sent emails to the most appropriate, centralised folder.
Consign manual searches to the past: Digging through your email inbox to find a single email is about as fun as digging graves on Halloween. Luckily, our email management solution includes artificial intelligence-powered search capabilities that enable you to find any email within two seconds.
Keep emails to a minimum: Infamous Halloween villains like Freddy Krueger, Jason Voorhees and Candyman are seemingly never phased by taking on multiple victims. But less is definitely more when it comes to sending emails. The more emails you send, the more responses you'll receive, which takes your attention away from tasks that drive value for your business. Keeping sent emails to a premium is key to ensuring improved productivity levels.
Unlike the victims in popular Halloween movies, email isn't going to die any time soon. Following these best practices and implementing a solution that helps you take control of your email will ensure you avoid the dreaded task of spending hours searching for messages or losing emails altogether.
It's time to stop letting these email horror stories become your reality. Download our latest ebook, "Surviving the Email Apocalypse", or watch our webinar below to see how you can arm yourself for survival and turn your email into a valuable asset: