The ongoing pandemic forced many organisations to fast-track technologies that enabled fully remote workforces and new ways of working. But business leaders now face the challenge of driving further digital change in a post-pandemic world.

We recently hosted a discussion focused on digital life in a post-Covid world, which addressed the adoption and acceleration challenges facing organisations in the architecture, construction and engineering industry. The webinar featured Salla Palos, Director of Transformation Services at Microsoft and Simon Evans, Digital Energy Leader at Arup, who explored the pandemic's role in accelerating change, the industry's fascination with digital twins, and issues around business information management (BIM).
How the pandemic accelerated change
Prior to the outbreak of the pandemic in early 2020, many organisations were exploring concepts like Industry 4.0 and digital transformation. However, they often failed to resonate across the business.
As Simon explained: "For me, the pandemic has been the first real driver for organizations to digitally transform that we've seen. The enforced need to adapt and change has seen dramatic things happen that I don't think anyone would have suspected. For example, we work with organizations who were planning to roll out Microsoft Teams in a six- to nine-month period, but were forced to do so in about six days instead."
Digital transformation has existed for some time but change in the AEC industry, until now, had been slow. This has largely been due to people using multiple applications and solutions and many different stakeholders working on the same projects.
As Salla explained: "I'm sad to say that I'm glad that this pandemic happened now. When the pandemic hit, the change had to be instant and the adoption of digital construction happened within days. People started adopting shared platforms and common data platforms that the industry has been trying to push but was slow at adopting.
"The AEC industry now needs to accelerate and move from industry 1.0 to industry 4.0 and see what the opportunities are. The transformation to change starts to happen with people as individuals. We have to change our habits and ways of working and that way we start to actually change the processes that then deliver the business outcomes."
However, while there have been positives from the pandemic, there are downsides to its effects. As Simon says: "I think it's a double-edged sword, where it's absolutely been a huge accelerant for digital transformation but people are getting left behind and being more digitally isolated. People who maybe don't have the right broadband or internet connections or are from a demographic where they're not so familiar or keen on technology."
Leadership's role in driving change
Driving technological change is reliant on having the right leaders in place to take organisations in the right direction. The panel explained that the most successful business leaders deeply understand digital or surround themselves with people who understand it, rather than simply doing it because they have to.
Simon outlined: "We see still a lot of platitudes and hand-waving when it comes to technology. People think digital will solve all their problems, which actually causes a lot of confusion, because there's a lack of awareness or education. So from a leadership perspective, it's really on organizations to talk about the tangibles and the use cases.
"I take the mantra that it's a journey, not a destination, when it comes to these things. There's no silver bullet that you can buy and deploy to change your organisation. In most cases, it's not actually a technology problem because the tech's been there for ages. It's pretty much always going to be a people and process issue that leadership needs to address."
One way to address this is to use data as a common language to be shared and embedded into various platforms and solutions. As Salla explained: "If we can ensure that data being exchanged is actually trustworthy and precise, then we can mitigate some of the risk that comes from the wrong use of terminology. A good example is the term 'greenfield.' The same language is used in software development and means something completely different in the AEC industry, which might leave architects and real estate owners in the crossfire. So there's a need to clarify a lot of the terminology."
The pandemic has also shown the need for business leaders to constantly invest in their IT. As Simon says: "If you are going to try and get people to adopt any type of technology or transform it has to be easier than the alternative of not using it. What we've seen is people deploy ridiculously complex systems or processes that no-one can get their head around without a significant amount of training and, although could be the best thing in the world, no-one adopts it and it falls flat."
Digital twin is not a silver bullet
The AEC industry has a tendency to get bogged down by popular buzzwords rather than focusing on the benefits and outcomes that technology offers. One of the biggest current buzzwords is digital twins, which the panel discussed not necessarily being a silver bullet.
Salla explained: "It's more of a mindset and a methodology that everyone needs to adopt, which requires people to start thinking about processes and how they actually deliver or build the digital twins. It's not a silver bullet that solves all the world's problems but, if built correctly, it can avoid the wrong decisions and unnecessary investments being made.
"For example, data can help you understand the microclimate of a location and how a slight rotation of a building can ensure it faces the direct heat gained from the sun every day to reduce the costs of cooling systems and enhance your sustainability."
Adopting digital twins requires AEC organisations to shift their mindset and think about the outcome they want to achieve rather than the technology they want to deploy. As Simon explains: "There's not one single product that you can buy off the shelf to give you a twin, just like there's not one single product you buy to write a word processing document or make a 3D model. Twins are not new in any capacity. The earliest example of deploying them was the Apollo missions over 50 years ago, when we called it digital mirroring. Since then, we've seen the manufacturing and aerospace sectors become big users of it for the last 20 years, but the built environment has only really woken up to it in the last three or four years.
"The most successful implementations come when they are answering particular use cases to address a particular challenge, such as predictive maintenance to inform the operation of a site or a city's energy usage. What we're not really seeing yet is how to bring twins into the earlier lifecycle, like designs and build, and using digital twins as a methodology rather than a technology you plug in to solve all your problems, which isn't going to work."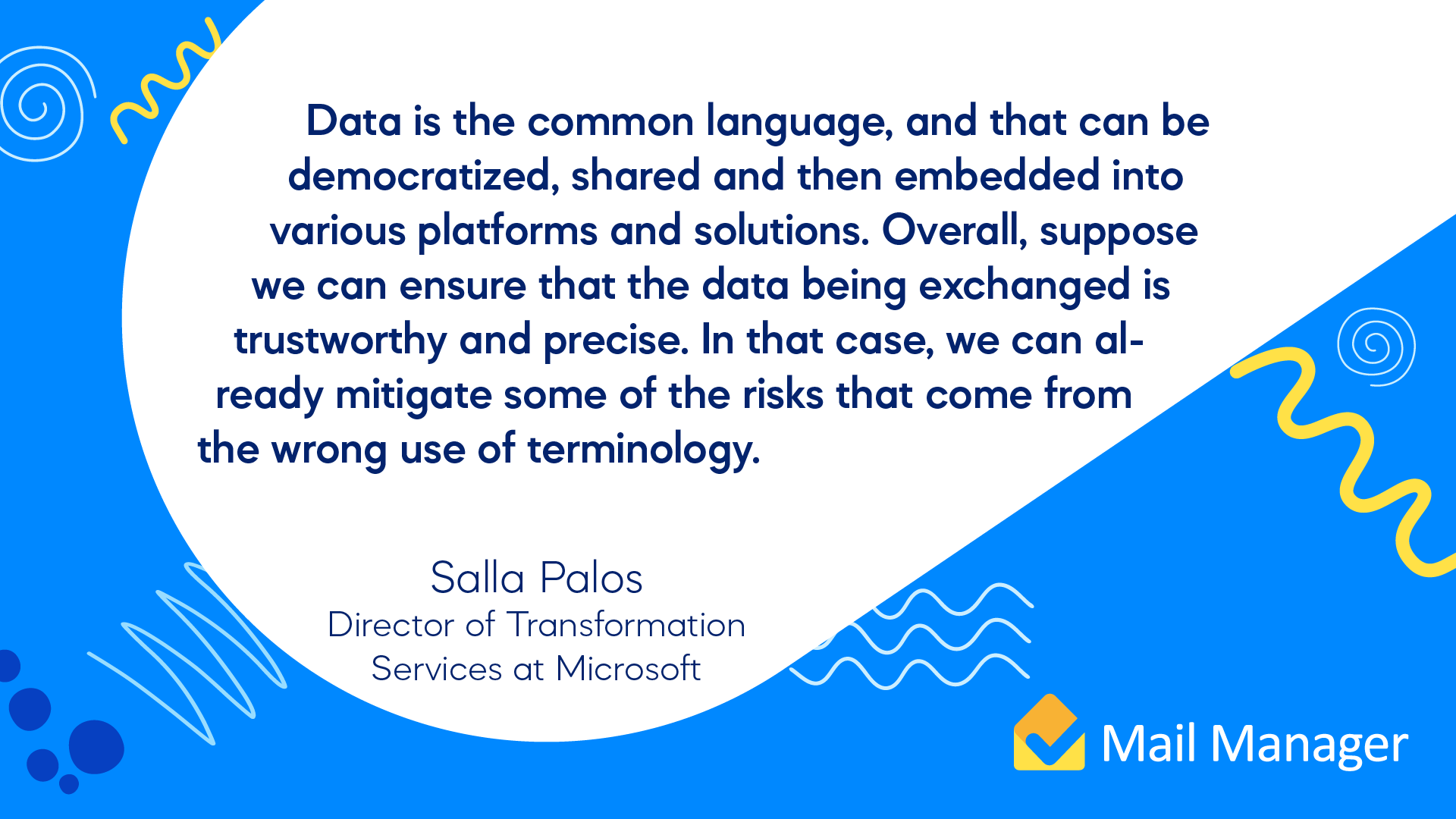 Putting the 'I' in BIM
While BIM has been useful for many organisations in the AEC industry, the information element of the term is typically restricted to design teams and rarely reaches operations teams. Furthermore, data is often fragmented and siloed, which means it can't get into the hands of people that may be able to benefit from it.
Salla outlined her idea for an evolution of the BIM model, which would enable a smarter way of developing buildings. "Thinking about the history of the built environment, oftentimes buildings are used until they are rumbling down and that's when you have to do a second investment into rebuilding it," she said. "Instead, there's an opportunity to rethink what kind of digital services we produce to keep the building performing and lengthen its technical lifecycle.
"I would love to engage the original project teams to give advice and change the built environment. By exposing that data, we'd be able to see how a building is actually performing, how to keep it performing as high as it can and at as low a cost as possible."
It's also important for businesses to ensure that the data they have is linked to business outcomes. This is especially the case with BIM, where people have massive expectations of the output of documents only for them to never be realised.
As Salla explained: "It's about opening up the silos that exist within an organization. People need to share the data they are managing to create meaningful discussions around the end-user experiences that people want and how they might be delivered in the physical environment. Businesses need to consider the outcome they're planning to create based on the data they collect, so they aren't just collecting it for the sake of it and creating dark data that nobody uses or knows exists. They need to open it up as much as possible and expose it to people to ensure that innovation can happen."
One of the biggest challenges for many digital projects is that they are seen as digital products rather than business change initiatives. As Simon detailed: "We know that telling people to transform doesn't work, not only in transformation but anything that's rolled out in the ACE sector. If you want to get somewhere at pace then you can't tell people what to do and you also can't let them work it out for themselves, it's always going to be somewhere in the middle."
Watch the digital discussion here: